Welcome! We are a small-town congregation that welcomes visitors as family!
Pastor Nancy Russell
Our Sunday Services start at 9:00 am
Sunday school starts at 9:00 am
Annual Fruit Pie Fundraiser
We have partnered with Shelly Smith of Smith's Orchard Bakeshop,
to sell their delicious homemade pies.
All pies are $14, arrive frozen and come with baking instructions.
Because they are frozen and will keep for 3 months, these pies will be perfect for upcoming fall and winter events.
You will enjoy a scrumptious dessert with minimal effort on your part.
Pie Varieties that are available include:
Apple, Apple Crumb Top, Apple Cranberry, Apple Cranberry Walnut, Blackberry,
Blueberry, Blueberry Crumb Top, Cherry, Cherry Crumb Top, Peach, Pecan,
Pumpkin, Raspberry, Raspberry Crumb Top, Raspberry Peach, Strawberry Rhubarb,
Tollhouse, Very Berry
If you would like to order a pie or pies, please call (518) 584-1812 no later than Sunday, September 25, 2022.
Please make checks payable to QSUMC
Holiday Craft Fair & Charity Bazaar
Sunday November 13, 2022
10:30 am – 4 pm @ the Church
Come shop our local vendors and artisans
featuring candles, jewelry, woodworking, seasonal and home décor and more!
Monday thru Friday at 8:30pm
You can watch evening prayer on the Quaker Springs facebook page.
Sunday at 11:00AM you can watch Pastor John provide a live Sunday Service on the Schuylerville facebook page.

Our regular newsletter serving Quaker Springs & Schuylerville United Methodist Church

Weekly church update for Schuylerville and Quaker Springs United Methodist Churches

The United Methodist Church is a global denomination that opens hearts, opens minds and opens doors through active engagement with our world. The mission of The United Methodist Church is to make disciples of Jesus Christ for the transformation of the world.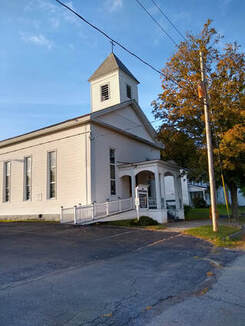 Schuylerville UMC is our sister church, we share a pastor and partner together in many of our ministry endeavors
Here is where you can find us …
We are here to serve our community in any way we can. So please do not hesitate to reach out if you need prayer, support or help in any way!
Church Phone Number: (518) 695-3101
Pastor's Cell Phone: (607) 435-6091
Pastor Email: joyinthespirit22@yahoo.com
Church Webmaster Email: quakerspringsumc@gmail.com
Mailing Address: 51 Church Street, Schuylerville, NY 12871